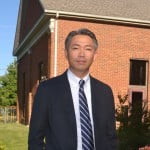 Paul has extensive experience in the ecumenical world and a passion for unity across denominations and faiths. He recently completed a six-year term on the CCU Board, including two years as chair (2013-2014), so he is intimately familiar with the purpose and vision of CCU.
He has been serving s pastor of White Oak Pond Christian Church in Richmond, Ky since August 2013. He previously served churches in Louisville and Lexington, Ky. Tche, a first-generation immigrant from South Korea, received his Bachelor and Master of Arts in South Korea, and earned his Master of Divinity from Brite Divinity School in Texas.
In addition to his work with Disciples, Tche is currently the co-president of the Korean American Ecumenical Network, a consortium of five denominations working for peace on the Korean Peninsula. He has also served as a Disciples representative for the World Council of Churches Ecumenical Consultation on Peace, Justice, and Reconciliation on the Korean Peninsula, and the 10th General Assembly of the World Council of Churches in Busan, South Korea, in 2013.
He married to Yeon Lim, who is a Ph.D. candidate in Philosophy. They have a son, Brandon.